You must be aware that Elon Musk acquired Twitter in a deal worth $44 Billion but it seems as if the Tesla Billionaire does not have a solid plan for the platform. Instead of growing Twitter, Musk has changed the entire identity of the platform as he has officially announced that it will be rebranded to 'X'. Yes, it is also worth noting that by the end of this year, the website will also move from twitter.com to x.com as x.com already redirects to Twitter.
But before that, we have noticed a huge change on Twitter's app icon which has now been changed to the X logo with a dark background. We all love the "blue bird" Twitter logo and if you are like me who is unable to find the new Twitter app due to the logo change, don't worry as this article will fix that.
In this article, we are going to show you how you can revert back to the old "blue bird" icon for Twitter on your iOS devices such as iPhones & iPads so follow along:
Open your iOS device and go to Shortcuts. If you don't have the app, install it from the App Store via this link.
Once your Shortcuts app is open, go to All Shortcuts and click on the + icon at the top-right corner of your screen to create a new shortcut.
Now, you will see a lot of options but you will see the option to "Open App" by creating a shortcut, click on that.
Click on Open and then click on App and search for the Twitter/X app and select it.
Tap the share icon on the navigation bar at the bottom of your screen and a new menu will be opened. From here, select the "Add to Home Screen" option.
Now, you will be able to customize the app icon as well as the name of your shortcut. Set the name to Twitter and the app icon will need to be downloaded by you. Just type "Twitter icon" on Google and you will find the old "blue bird" logo. For your convenience, we have linked the icon which we used for our tutorial which is this one.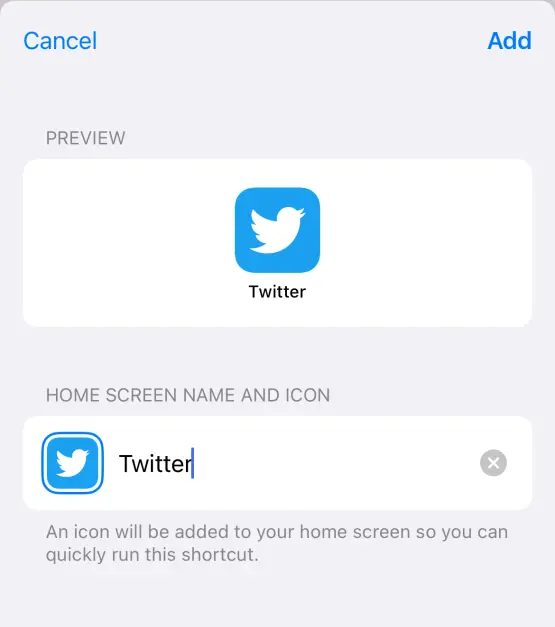 Set the image as your shortcut's icon and now you will see the old Twitter app with its old logo on your homescreen. Remember that the X app will still be on your phone after this and don't dare to uninstall the app as it will make the shortcut useless.
That's pretty much all you need to do in order to create a shortcut to get back the old Twitter icon with its original name instead of "X". And yes, we agree that it does seem like an NSFW app in isolation but it is what it is.
We think that the name is not going anywhere as Elon Musk had planned about an everything app named X since decades which could provide financial services as well. The next step in this journey could be the launch of a payments service inside Twitter/X just like his former company, PayPal.
We are also interested to see what Elon Musk announces this weekend as it has been his modus operandi to make big changes to his platform on every weekend since his acquisition. Till then, enjoy the old Twitter icon on your phone.