While browsing my application list one day, I randomly discovered an app named com.google.android.trichromelibrary installed on my phone.
Since I was pretty confident I did not install it on my phone, my initial reaction was to whether malware had entered it.
However, I decided to search for this application online, and after hours of research, I found a few exciting things about this com.google.android.trichromelibrary application installed on my phone just like I did for storage/emulated/0.
Trichromelibrary is a pre-installed Android application known as Android System Webview in a more straightforward language.
If you are just like me, wondering what the heck Trichromelibrary and Android System Webview what are they doing on my phone, read along as we have shared all the details about this app in detail below:
What is Com.Google.Android.Trichromelibrary?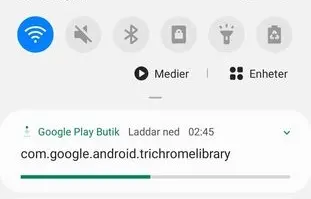 As we mentioned earlier, com.google.android.trichromelibrary is an Android package that is used for Android System Webview.
Android System Webview is an application launched by Google on Android which speeds up the loading time of your web pages inside the browser.
Now that we know about trichromelibrary, we should focus more on Android System Webview as it is the main application here.
What is Android System Webview?
Now that you know about Android System Webview, which Google packages on your phone as com.google.android.trichromelibrary, you must also be eager to know what it does on your phone.
Android System Webview is the main reason you see web pages on your phone loading inside the app rather than opening a browser.
For example, you are browsing Twitter, and you click on a link inside the app. Instead of opening that link on the Chrome browser or any other browser, Android System Webview will open that webpage on your phone inside the Twitter app.
Also, you cannot uninstall Android System Webview and it is a standalone app on your Android phone and it depends on whether you have Google Chrome installed or not since it does not support other browsers right now.
Is com.google.android.trichromelibrary a malware or spyware on your phone?
No, com.google.android.trichromelibrary is a safe application on your phone and is directly published and maintained by Google.
It will not infect your phone in any manner whatsoever. However, it does track your behavior as it manages cookies and javascript on your phone.
Having said that, every web page you visit has a tracker installed so you are not going to avoid that in any case.
How to update Android System Webview?
To update Android System Webview on your Android phone, open the Google Play Store.
On the Google Play Store, look for Android System Webview and Google Chrome apps.
See if updates are available for either or both of them.
If yes, install the updates, and your Android System Webview will be updated.
How to fix "com.google.android.trichromelibrary downloading stuck" issue?
We have seen many users complaining about the com.google.android.trichromelibrary downloading stuck issue they are facing on their phones.
There are several reasons why this error message pops up on your device and we can fix it in the following manner:
#1. Restart your device
The first method to solve this issue, or any other issue in general on your Android phone, is to restart your device.
To restart your device, long-press the Power button for a few seconds and click on the Restart option.
Once the device gets restarted, check if the problem persists. If it does, continue with the other methods mentioned below.
#2. Clear the Cache
Another method to solve your Android problems is clearing the cache on your phone.
To clear the cache on your phone, follow these steps:
Go to Settings > Storage > tap on Cached Data and click OK to clear the cache.
#3. Free Up Storage Space
It is possible that inadequate storage space on your Android phone might also be causing this error.
To free up storage space, go to Settings > Storage > click on Menu and select Free Up Space and remove the apps and files that you don't want.
#4. Force Stop Trichromelibrary
The last resort is to force stop com.google.android.trichromelibrary and your problem will be solved for the time being.
To force stop trichromelibrary, go to Settings > Show System Apps > Apps > locate trichromelibrary or Android System Webview and click on Force Stop.
Tap OK if you are asked to confirm if you want to force stop this app.
If you are facing a lot of problems with Android System Webview and you want to altogether remove this app from your Android phone, then there are options as well.
Since it is a system app, you can't simply uninstall it.
Instead, you need to remove it after rooting your device.
Our friends over at Converged Devices have published a beneficial guide which you can follow from here.