Are you holding an LG Stylo 6 and looking to calibrate your favorite LG Stylo 6? But worried about how to do it? Don't worry, I have a step-by-step guide on calibrating your LG Stylo 6. Let's discuss it in this article.
How to Calibrate your LG Stylo 6?
To calibrate your LG Stylo 6, follow these steps:
Go to the settings app on your phone.
Tap on "General"
Tap on "Stylus."
Tap on "Stylus calibration."
Follow the on-screen instructions to complete the calibration process.
Note: The exact steps may vary slightly depending on the software version of your LG Stylo 6.
How to Calibrate your LG Stylo 6 using a third-party app?
Step 1. Open the Google Play Store and install this touchscreen calibration app.
Step 2: Launch the application, and press "CALIBRATE" to begin.
Note: You must pass six touch tests, ranging from a light tap to a pinch. To finish each exam, adhere to the directions displayed on the screen.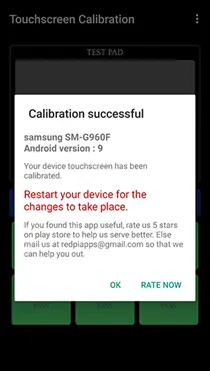 Step 3: A confirmation message confirming the calibration's completion will appear after the test. If there have been any improvements, restart your smartphone and check using an app like Touch Screen Test.
Your Android device's touch screen can become stuck after many hours. Make sure touch screen calibration fixes the problem before you replace the device.
Why does your LG Stylo 6 need Calibration?
There are many reasons why your LG Stylo 6 needs calibration, but here are the common cases why your LG Stylo 6 may need calibration:
Touch Screen Accuracy: If you are experiencing issues with the touch screen accuracy, it may be necessary to calibrate the screen to improve its responsiveness and precision.
Software Update: After a software update, the touch screen may not work correctly, and calibration may help resolve any issues.
Physical Damage: If the device has been dropped or damaged in any way, it may affect the touch screen's accuracy, and calibration may help resolve the issue.
New Screen: A calibration may be necessary to ensure accurate touchscreen functionality if you have replaced the screen.
It is essential to follow the manufacturer's instructions when calibrating your device to avoid any further issues.
The hardware that runs Android has evolved along with it over time. Android hardware is far more sophisticated and potent today compared to earlier times.
Modern Android touch screens seldom need to be calibrated or set up by the user. More often than not, a touchscreen malfunction is caused by an unrepairable hardware issue rather than a particular setup problem.
How to test the screen of an LG Stylo 6?
Here are the necessary details on how to test your LG Stylo 6,
Display Quality Test: Check for color accuracy, brightness, contrast, and sharpness. Look for any dead pixels, streaks, or discoloration.
Touch Screen Test: Check if the touch screen is working correctly. This can be done by running a touch screen test app from the Google Play Store or trying to tap, swipe, and pinch on the screen.
Screen Protection Test: Check if the screen is protected with a screen protector or tempered glass. Check for any cracks or scratches on the screen.
Display Resolution Test: Check if the display resolution is set correctly.
Flexibility Test: Check if the screen is flexible. Apply gentle pressure to the corners and edges of the screen to check for any bending or warping.
Note: If any issues are found during these tests, it may be necessary to replace the screen or seek professional repair services.
You could calibrate and test your touchscreen in older versions of Android using secret menus and developer settings.
Because touchscreen technology was still in its infancy, this was crucial for earlier Android smartphones.
If you have an earlier Android phone, dial ##2664## to attempt to access this secret touchscreen menu. This feature will not work on Android devices running Android Lollipop version 5.0 or later.
Instead, you may test the touchscreen with apps available in the Google Play Store for contemporary Android handsets.
You may check if the screen is calibrated correctly by looking at them to see how it reacts to your touches.
How to Factory Reset on LG Stylo 6?
If all the procedures fail, there is no other way than to factory reset your LG Stylo 6. To factory reset an LG Stylo 6, follow these steps:
Step 1: Go to the Settings menu by tapping the settings app on your home screen.
Step 2: Scroll down to the "General" section and tap on "System."
Step 3: Tap on "Reset."
Step 4: Tap on "Factory data reset."
Step 5: Read the warning and tap on "Reset phone."
Step 6: Enter your password or PIN to confirm the reset.
Step 7: Wait for the phone to complete the reset process. This may take several minutes.
Once the reset is complete, your phone will restart, and the initial setup process will start. Follow the on-screen instructions to set up your phone again.
Note: Performing a factory reset will erase all data on your phone, including contacts, photos, videos, and apps. Make sure to back up your data before resetting the phone.
FAQs
1. How do you calibrate the touch screen?
By following steps on how to calibrate a touch screen:
Open Control Panel: Go to the Start menu and type "Control Panel" into the search bar. Select the "Control Panel" option from the search results.
Find the Calibration Tool: In the Control Panel, search for "Calibrate the screen for pen or touch input". Select the "Calibrate the screen for pen or touch input" option.
Launch the Calibration Tool: This will launch the Touch Screen Calibration Wizard. Click the "Next" button to proceed.
Follow the On-Screen Instructions: The wizard will guide you through the calibration process. You'll be asked to touch the screen in various locations to calibrate the touch screen. Follow the on-screen instructions carefully.
Complete the Calibration: After you've followed the on-screen instructions, the touchscreen calibration will be complete. You can test it by tapping and swiping the screen to see if it's working correctly.
Note: The steps may vary slightly depending on your operating system, so it is best to consult the manufacturer's website for specific instructions.
2. Can I adjust the screen sensitivity on my LG Stylo 6?
In simple terms, on your LG Stylo 6, the screen sensitivity may be changed. This is how:
Open your phone's "Settings" app
Click "Display" after scrolling down
Press "Touch sensitivity" once
Here, you may customize the touch sensitivity to suit your tastes.
3. Is calibration good or bad?
Calibration is adjusting a device or system to ensure that it performs accurately and consistently. Calibration is generally considered good because it ensures that a device or system works correctly and produces reliable results.
For example, the calibration of a thermometer ensures that it accurately measures temperature.
However, in some cases, calibration may be harmful if it is not done correctly, leading to incorrect results or errors.
For example, incorrect calibration of a medical device can lead to incorrect diagnoses and treatment decisions. So, calibration is good when it is done correctly and accurately and bad when it is not.
Bottom Line
Following these simple methods, you can easily calibrate your LG Stylo 6. If you find this article helpful, kindly share it with your LG user friend looking to calibrate his/her LG Stylo 6.
If you want guides for any other issues or if you want me to make a troubleshooting article for any other topic, feel free to comment on it, and I will try to cover it asap.